A Thoughtfully Considered Collection Of
Functional Spaces And Breathtaking Details
Introduction to Valley View Cottages in Dehradun, Uttarakhand
The Pine Valley at Ramante Homestay is a single-room cottage that features an attached contemporary toilet and bathroom, and a comfortable and relaxing double bed, and the guests can enjoy a perfect and enchanting view of the valley sitting right on their bed through their big valley-facing window. The local sights and sounds of the valley are always enigmatic and curious.
The wooden flooring of the cottage adds to the class, sophistication, and imagination of the guests who are living in and enjoying the unit.
The cottage is well-equipped with AC, TV, fridge, and oil heater. Our in-house kitchen is always prepared to serve the guests delectable cuisine and refreshments.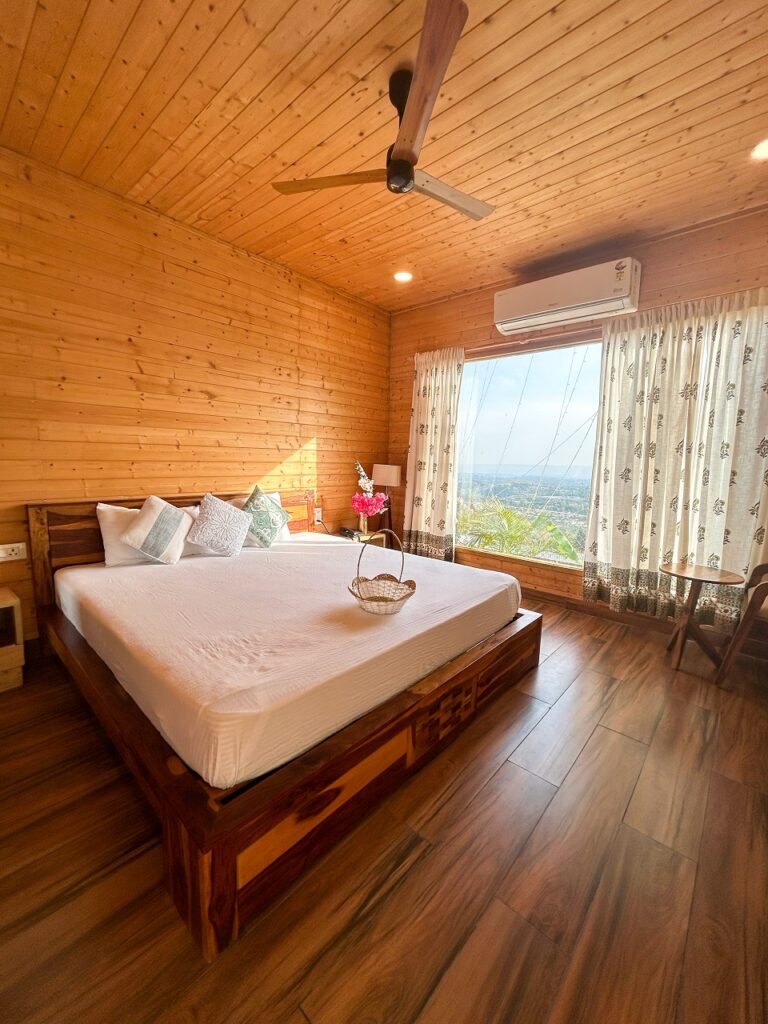 Amenities Offered by Uphill Valley View Cottages in Dehradun
• Free private parking
• Free Wi-Fi
• CCTV installation on the outside property
• CCTV installation in shared areas
• Provide bathroom amenities like toilet paper, towels, towels/sheets (extra fee), extra toilet, toilet, free toiletries, and shower
• Double bed perfect for a couple
• Great wooden flooring that's extremely comforting during the winter months
• Outdoor sitting arrangements on the balcony, terrace, and garden area
• Bonfire and BBQ available
• Media and technology are readily without any pause available like a flat-screen TV, satellite channels, and more
• Exhilarating outside view of the serene surroundings, garden, and mountains
Web pages created by users
In-house designed templates
Customers served around the world
Meals at Luxury Wooden Cottages in Dehradun, Uttarakhand
Our in-house kitchen is always creating great dishes according to the desire and requirements of the guests. The responsibility of the homestay's kitchen rests with experienced local cooks who cook the most delightful, healthy, and nurturing meals for you. The meals and refreshments can consist of an assortment of cuisines.
Since we deliver healthy home-cooked meals, we source all our garden-fresh ingredients locally. As usual, tea/coffee will be served during breakfast and evening tea time. Guests can also order tea/coffee as per their refreshment requirements but this comes at an additional price.
Meal prices (per person per day) are inclusive of breakfast, lunch, evening snacks, and dinner. If guests want to select a few/one meal(s) only, they are free to do so.
For more details go through our menu card…
Policies of Valley View Family Cottages in Dehradun
• Outside food is not permitted in the cottage
• Guests are allowed to access the in-house kitchen excluding children
• Guests can invite other visitors during their stay at the cottage
• Our management does not encourage late-night merriment. Loud music is not acceptable beyond a specified time
• The caretaker often who's a local supervises all your requirements throughout your stay. The housekeeping and house cleaning staff are available at perfect timing to maintain cleanliness and sanitation
• Pet-friendly
• The inside pool is unguarded. There is no lifesaver available so children in the pool must be escorted by their guardians all the time
• Guests are gently requested to be careful with their personal belongings. Ramante homestay's management will not be responsible for any loss, theft, or harm to any of your belongings
• As per law, every guest above the age of 18 must have government-approved photo ID proof that displays the address
• Unfitting behaviour or violation of any of the homestay rules will lead to a gracious repudiation to accept a booking. If already checked in, management possesses the authority to ask guests to leave
• Guests are eligible for a free cancellation policy from the time of booking. The refund process generally takes 5-7 working days
• If the guest has made a limited payment, then also the amount will be refunded